Summer reading challenges are a great way to make summer entertaining and educational for kids! As you may know, summer reading is essential for maintaining and expanding your child's literacy skills. Thus, summer reading challenges will keep your child entertained while allowing them to reap all the benefits of summer reading.
To help you organize a challenge at home, we've compiled a list of ten fun ideas for summer reading challenges. With our carefully curated list of summer reading challenges, you can transform this summer into a reading extravaganza that will boost your child's reading proficiency and ignite their love for books. Best of all, you won't need any special equipment or expensive items - just a cozy corner and some fantastic books.
Ready to make summer reading more fun? Let's dive into our summer reading challenges for kids!
Want to learn more about the benefits of summer reading at home? Check out our article on why summer reading is important.
What is a summer reading challenge?
A summer reading challenge is a series of fun and interactive activities designed to motivate children to read during summer vacation. Summer reading challenges typically involve specific reading goals and tasks that must be completed throughout the summer.
Want to learn how to organize an engaging and effective summer reading challenge for your child? Let's take a look.
How do you organize a summer reading challenge? 6 Steps for Building Effective Summer Reading Challenges at Home
Organizing a summer reading challenge can be a rewarding and enjoyable endeavor. Here's a step-by-step guide on how to organize a successful summer reading challenge for kids.
Step 1: Define the Objectives for Your Summer Reading Challenge
Start by setting clear objectives for the reading challenge. In other words, determine what you want to achieve through the challenge. For example, do you want to foster a love for reading, improve literacy skills, or encourage regular reading habits? Clear goals will guide the entire challenge and help you tailor activities to suit those objectives.
Step 2: Choose a Theme
Once you've established your objectives, it's time to select a captivating theme. A well-chosen theme will entice your child to participate in the summer reading program.
When choosing a theme, be sure to consider your child's interests. Incorporating their preferences will ensure the challenge resonates and piques their curiosity - igniting enthusiasm for each task.
Step 3: Set Reading Goals and Challenges
Next, create a series of engaging reading tasks based on the summer reading challenge objectives and theme. For example, these tasks could include:
Reading a certain number of pages each day
Exploring a new genre
Reading a book that features a character with your child's name
Most importantly, ensure the challenges are fun and appropriate for your child's age and abilities.
Step 4: Design a "Reading Passport" for the Summer Reading Challenge
Craft a unique "Reading Passport" – a visual guide that maps out the challenges and reading tasks. Use colorful designs and illustrations to make it visually appealing. Each challenge should have a brief description. Plus, be sure to leave space for stamps, stickers, or checkmarks so the "Reading Passport" can be used to track your child's progress!
Step 5: Plan to Celebrate Milestones
As your child completes challenges, take the time to acknowledge their efforts. This is important because positive reinforcement boosts their confidence and encourages them to keep reading! For example, throw a small party or have a special family dinner to acknowledge their progress.
Small treats and surprises for completing challenges can also be helpful. Remember that rewards need not be extravagant; the joy of earning them will be the real motivation! For example, small prizes could include:
Hand-made certificates
Bookmarks
Small gifts, etc.
Step 6: Encourage Friends and Family to Participate
When it comes to summer reading challenges, the more the merrier! Encourage your child's friends or siblings to join the reading challenge. You can even organize reading sessions or discussions with other families to make reading a social and enjoyable activity.
Need some inspiration for your at-home summer reading challenge? Here are ten ideas to help you promote summer reading at home.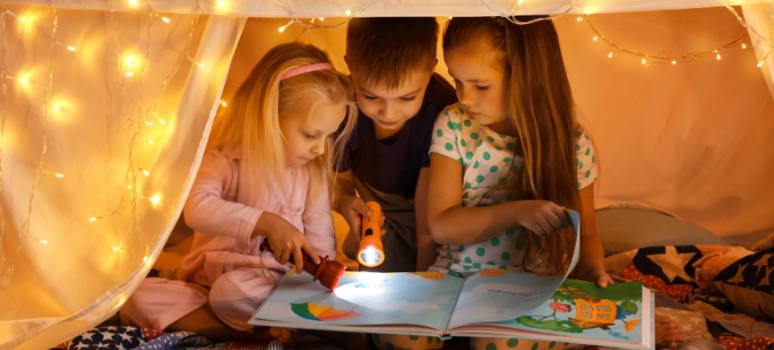 10 Fun Summer Reading Challenges for Kids
These exciting summer reading challenge ideas will inspire your child to read, helping maintain and build their literacy skills over the summer.
Challenge your child to read one new book every day throughout the summer.


1. The Book-a-Day Bonanza
This challenge is about unleashing the power of imagination and building a solid reading habit. As your child flips through pages, they'll enhance their vocabulary and comprehension skills and spark a lifelong love for reading.


2. Character Costume Extravaganza
Blend reading and imaginative play with this exciting summer reading challenge. Encourage your child to read a book, then pick their favorite character and bring them to life through costume.
This challenge isn't just about playing; it's a journey of self-expression, empathy, and connecting with beloved literary characters. So, grab your capes, crowns, and wands, and let your imagination take center stage!
3. Genre Adventure Quest
Create a reading challenge where your child dives into genres they haven't tried before. From adventure and mystery to science fiction and poetry, each genre offers a unique reading experience.
This challenge aims to ignite your child's curiosity, expand their reading horizons, and introduce them to different storytelling styles.
4. Time-Traveler's Expedition
Let your child venture through time with this unique summer reading challenge for kids! To complete this task, your child must read three books - one about the past, present, and future.
This challenge aims to take young readers on an exciting and educational journey through time. By introducing books that explore historical eras and futuristic worlds, this challenge sparks curiosity, enhances historical understanding, promotes critical thinking, and encourages a passion for history.
5. Book vs. Movie Showdown
Make reading even more exciting by challenging your child to read a book and then watch its movie adaptation. Host mini-movie nights where they can discuss the similarities and differences between the two versions.
This summer reading challenge develops critical thinking skills, enhances comprehension, and encourages literacy discussion.
6. Reading Olympics
Turn reading into a friendly competition with the "Reading Olympics" challenge. Set reading goals, create a scoreboard, and award medals for every book completed.
This summer reading challenge aims to encourage reading fluency, foster a love for reading, build confidence, and promote healthy reading habits.
7. Mystery Book Surprise
Wrap up some books to create a mystery book selection. Then, let your child pick a book and unwrap a surprise story!
The goal of this summer reading challenge for kids is to add an element of excitement and surprise to the reading experience. As a result, this challenge will ignite curiosity and inspire even the most reluctant readers to explore new stories. This challenge also encourages young readers to venture beyond their usual book choices and explore new genres and authors.
8. Alphabet Adventure Challenge
To complete this challenge, your child will need to explore book titles and authors from A to Z! For each letter of the alphabet, find a book with a title or author's name that starts with that letter.
This summer reading challenge is designed to help young readers explore a diverse range of books and foster a love for language and reading.
9. Summer Reading Bingo
Design a summer reading bingo card with various book titles, genres, authors, or themes (e.g., books that teach life lessons). Your child can mark off each box as they complete it, aiming to get a "bingo" by X-ing out a line or the whole card.
This summer reading challenge aims to promote diversified book choices, encourage goal setting and create a sense of accomplishment! The bingo format also adds an element of excitement and motivation, encouraging kids to complete multiple reading tasks.
10. Book Adventure Jar
Write different reading activities on slips of paper and place them in a jar. These activities could be things like "read under a blanket fort" or "read with a flashlight at bedtime."
The Book Adventure Jar challenge aims to transform reading into an enjoyable journey filled with surprises, creativity, and exploration. It nurtures a love for books and reading by instilling a sense of wonder and excitement in young readers.
How can I make summer reading more fun?
Summer reading shouldn't be a chore. If the summer reading challenges for kids described above don't inspire your reluctant reader, these creative ideas will!
Motivate your child with a reading rewards system

. For every book they complete or reading challenge they conquer, offer small incentives like stickers, bookmarks, or extra playtime. The joy of earning rewards will add excitement to their reading journey.
Organize a reading picnic in your backyard or at a nearby park

. Pack a basket with snacks and drinks, lay out a cozy blanket, and let your child immerse in stories while surrounded by nature's beauty.
Make reading a family affair.

Reading is more enjoyable when the whole family participates! Designate a specific time for family reading. Each member can pick their own book and share their favorite parts or characters afterward.
Encourage creativity by making bookmarks

. Use craft materials like colorful paper, stickers, and glitter to create personalized bookmarks. These little crafts will make reading time even more special.
Build a cozy reading fort

. Use blankets and pillows to create the perfect reading haven for your child. This dedicated and relaxing environment will encourage your child to read, cultivate a love for books and promote independent reading.
Explore audiobooks.

Audiobooks offer an exciting and unique way to experience stories. Listen to audiobooks together during car rides or while relaxing at home. It's a wonderful way to enjoy a story, especially when voiced by talented narrators. Plus, there are many

benefits of audiobooks for kids

, including the ability to help improve vocabulary and word recognition.
Looking for great audiobooks for your summer reading challenge? Check out these top ten best audiobooks for kids.
Ready to implement some (or all) of our summer reading challenges for kids? Booka can help.
Make Summer Reading Challenges Fun and Simple with Booka
The Booka reading app for kids is a valuable tool for parents who want to implement summer reading challenges.
Here's how Booka can help parents create the perfect at-home summer reading challenge.
Diverse Book Selection

- Booka offers a wide range of age-appropriate books, giving children access to a diverse selection of reading material. Best of all, these books are available anytime, anywhere, at the touch of a button.
Interactive Reading Experience

- the Booka reading app also incorporates interactive features, like read-aloud options, that make reading fun!
Personalized Book Recommendations

- the Booka Reads feature suggests books based on your child's interests. As a result, they'll have no problem finding books they love to complete the summer reading challenges above.
Download Booka today to help your child complete these summer reading challenges!